This page is the "About Us" page for the London School of Samba.   LSS has been helping people experience Brazilian Carnival Arts since 1984 in the UK, Europe and beyond.  Each year we participate in the Notting Hill Carnival as well as other smaller parades. We also perform at live shows and gigs.
Samba dance and drumming classes in London
The London School of Samba offers our fantastic weekly samba dance and samba drumming classes in London.  We are proud to provide a safe fun space for everyone to experience Samba dance, Samba drumming, costume making and much more.
London School of Samba linked to Mocidade in Rio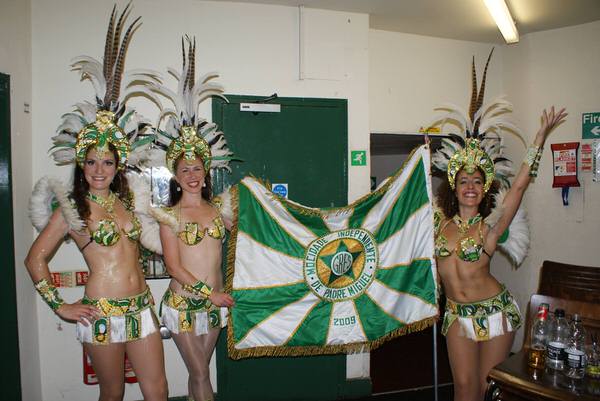 We are linked to Brazil through our godmother school Mocidade, which won the 2017 Rio De Janeiro Carnival. We have been featured in many magazines, papers and TV shows. Our latest show was our appearance on Strictly Come Dancing.
The London School of Samba mission
The Mission of the London School of Samba is to entertain, educate, and engage the public in traditional Brazilian carnival arts, for cultural, social and educational benefit.

We offer high quality, fun and open access training and workshops in:
As well as opportunities for artistic and personal development to:
Facilitate personal artistic development
Facilitate artistic development in order to perform at LSS events
Provide the opportunity to perform and participate at the world-renowned Notting Hill Carnival
Provide the opportunity to volunteer and to learn about and contribute to the running of the school
And entertainment for:
Carnivals and festivals
Nightclubs
Community and charity events
Schools and educational centres
London School of Samba Charitable Objectives
The London School of Samba is committed to advancing education for public benefit through the promotion of the arts – with particular but not exclusive reference to Samba music, dance, costume making and the culture and tradition of Afro-Brazilian Carnival.
Links to key documents and policies
Click on the links below to download copies of our policies and key documents:
Contact the London School of Samba
You can contact the London School of Samba by emailing us below.  We run weekly samba dance classes in London for beginners to intermediate students.  Our Samba drumming classes in London are very popular with people wanting to learn a new instrument.  You don't need any previous musical experience or have to read music.  All you have to do is copy the teacher and they will break everything down so it is easy to learn.  Send us a mail below: