If you are interested in samba dance classes in London, then you are in luck.  At the London School of Samba, we have some of the best samba dance teachers in London.  Our Sunday Rio samba dance classes are brilliant for beginners wanting to learn how to dance samba!
We offer beginners samba dance classes in London
Our Samba dance teachers are brilliant at Level 1 or beginners samba dance classes in London. They are perfect for anybody new to samba dance in London.  You will learn the basic movements and steps, and our samba dance teachers are on hand to show you how it is done.
This class from the London School of Samba is about having fun and getting out of your comfort zone. We have fantastic customer reviews from people who have attended the class.  Click on this link to Book your place on the next available beginner's samba dance class.
Intermediate level samba dance classes in London
If you love dancing samba and want to take it to the next level, then our level 2 intermediate samba dance class in London is fantastic! The class will focus on improving your technique, skill and stamina.  Our samba dance teachers will help you to improve your hip movement and foot technique.
The fantastic samba dance teachers will show you how to parade and how to perform on a stage.   If you are looking to improve, then this class is perfect for you. Click here to > Book your place on the next available samba dance class.
London School of Samba Performance Group
The London School of Samba has an amazing number of very talented samba dance teachers at the school.  We have an invite-only samba dance performance group that is run by our samba dance teachers in Waterloo. The performance group participates in live shows and carnivals across the UK and Europe. Our samba dance teachers have created a close-knit community we have an emphasis on supporting each other as we develop our dance performances.
As you can see our samba dance teachers are a lot of fun, but they will work you hard!  If you are looking to start samba dancing classes or improve your samba dance styling, then our samba dance teachers will be a perfect fit for you.
Orquidea Lima
Orquidea fell in love with Samba as a child while watching the live broadcasts of the Rio Carnival on television in her native country of Portugal, staying up until early hours of the morning to marvel at the parade of her favourite Samba school G.R.E.S. Beija-Flor de Nilópolis.
Orquidea started her Samba journey at the London School of Samba in 2008. In 2010 she won the LSS 'Rainha da Bateria' competition and in 2012 was elected 'Musa' by LSS members for the period of 2012 – 2014.
She paraded in Rio Carnival representing G.R.E.S. Mocidade Independente de Padre Miguel and G.R.E.S. São Clemente as a Passista.
With a formal training in Performing Arts, her international career has taken her to India, Hong Kong, Qatar, the Maldives, Nigeria and all over Europe. Regular performances include The International Samba Festival of Coburg (Germany) and the Notting Hill Carnival (London, UK).
She has trained with the very best Samba teachers in the world, such as Carlinhos Salgueiro, Alex Coutinho, Bellinha Delfim and George Louzada.
Orquidea started teaching and choreographing Samba at LSS in 2012. Also, teaching from beginners' level to advance for: The Brighton School of Samba, Beleza of Brighton, Abunda Escola de Samba (Gottemburg, Sweden), Vai Dance Art (Malmo, Sweden), Oslo Sambaskole (Norway), Império do Papagaio (Helsinki, Finland), Samba Carioca (Turku, Finland), Unidos de Hamburgo (Hamburg, Germany), Quershlager (Paderborn, Germany and Belezas do Brazil (Warsaw, Poland).
Gladys Cavalcante
Gladys Cavalcante is a performer and choreographer from Rio de Janeiro, Brasil, specialising in Brazilian Ballroom and Latin Dance. She began her training in 1993 in Brazilian Ballroom Dance, and has since travelled worldwide, reached the semi-finals of Britain's Got Talent 2010 and shared the prize for the Best Latin Dance Performers (with Douglas Gomes, one of her dance partners) at the Latin UK Awards (LUKAS) in 2011.
Gladys trained at the Jaime Arôxa Dance School, the most traditional Brazilian Ballroom Dance School. She is specialized in Brazilian dance styles such as Samba no Pe, Samba de Gafieira, Forro, Bolero, Lambazouk, Brazilian Zouk and Salsa.  Gladys is known for being one of the best and fun samba dance teachers in London.
Marta Ribeiro Scott
Marta Ribeiro Scott is a dancer and performer from Rio de Janeiro, Brasil. In her career she has worked as a professional dancer and singer in Europe, Israel, and in the US, performing in Las Vegas and on Broadway.
Marta has been teaching Latin and Jazz Dances and Samba for 23 years in the UK and she has been the Director of the Marta Scott Dance Company in Brighton for 13 years.
Marta has paraded and choreographed dance groups/Alas at ten Notting Hill Carnivals with the London School of Samba.
One of the highlights in her career was being the runner up in The Lukas Awards 2019 for the "Outstanding Female Dance Performer (Latin)".
In Marta's words: "Dance has been the joy of my life for 46 years!
I like to make people smile as it is my fuel to carry on … You're never too old to DANCE!! I love sharing Samba love when teaching at LSS in order to help new dancers to feel confident enough to parade at Notting hill Carnival!!! "
Ama Rouge
Ama Rouge is a multidisciplinary artist with over 18 years of movement-centred experi- ence, a host, and model who brings her unique energy to all she does
Outside of the UK Ama has trained in Afro Latin and Contemporary dance in Brasil and Cuba and has been dancing Samba since 2003. Over the years she has performed and paraded with many samba companies.
A creative educator for over 14 years, she has taught and delivered for London School of Samba, Central School of Speech and Drama, Dance Umbrella, Greenwich Dance, Kineti- ka Bloco, Global Grooves and RAD Step into Dance, amongst others.
Within Samba Ama likes to bring in elements of her training in other styles – West African, Contemporary, House and Ballet to support dancers Samba no pé development.
Sometimes she will use other genres of music in class to underpin or further dancer's under- standing of movement technique or style. Always expect a sweaty and supportive vibe in her classes!
Career highlights include; voiceover for Cannes XR, choreographing for the formal opening of the 2018 Commonwealth Heads of Government Meeting, Selfridges EveryBODY campaign led by Wayne McGregor and captured by Norbert Schoerner, parading in 2008 Rio Carnaval and performing in the 2012 Olympics Closing Ceremony.
When Ama's not doing any of this you'll find her deep in a book, eating, cooking, hiding playfully in small spaces, practising yoga or learning to longboard.
Douglas Gomes
My name is Douglas Gomes, and I have always been passionate about dancing. It all started when I was just 16 years old in Brazil. I was lucky enough to attend a wonderful dance school called Bailar Danca de Salao in Uberlandia, Minas Gerais, where I fell in love with dance. I continued to pursue my passion by attending dance congresses in Sao Paulo and Rio de Janeiro, where I had the opportunity to learn from some of the best academies, including Carlinhos de Jesus, Jaime Aroxa, and Jimmy de Oliveira.
As someone who learned dancing in a Ballroom School, I had to master many different styles such as Argentinian Tango, Salsa, Bachata, Lambada, Zouk, Chachacha, Samba de Gafieira, Forro, and Samba no pe.
When I moved to London in 2005, dancing became a big part of my life. I had the pleasure of performing Brazilian Ballroom dance at some amazing nightclubs and I qualified in exercise to music and taught dance at various gyms and health clubs.
One of the most memorable moments of my career was when I was cast to perform salsa on a cruise ship in the Caribbean (Cuba and the Dominican Republic) for Carnival UK cruises.
Since 2006, I have been teaching samba at the London School of Samba, and I am proud to be one of the longest-serving male teachers here. I enjoy breaking down the steps and sharing the essence of the dance and the Portuguese language with the students.
I hope to see you on the dance floor!
Iuli Caroline
Iuli Caroline was born in the countryside of São Paulo, the daughter of sambista parents. Her samba journey began at the age of 10 as Queen of the Bateria of a local samba school.
Over the years she rapidly acquired confidence and notability, raising the level of her samba no pé, becoming Queen of her town, Paulínia, and dancing with countless schools in São Paulo.
Iuli has then taken her career outside of Brazil, sharing the culture, teaching and training in various Brazilian dance styles around the world.
As of now, she has been teaching and performing samba in twelve different countries.
Some highlights in her career as a teacher and performer are: Winner of the Second Place in the Dance category of the London Guide Awards 2022, as a Samba Instructor and producer of the main Samba Workshops in Europe.
Nominated and recognized by her town, Paulínia, as representative of dance and culture.
She is currently an instructor of samba at Brasil Samba Congress Internacional online and at Brasil Samba Congress Rio De Janeiro.
Iuli is a teacher with a strong personality, plenty of positive energy to share and she brings years of training and performance experiences to her classes.
Michela Di Felice
Michela Di Felice is a professional artist with more than 10 years of experience in the scene. She is known for her wide versatility in many styles (jazz, contemporary, street dances, dancehall, commercial, salsa, samba, afro styles, Bollywood and more).
Her training started in Italy, then Paris and Bruxelles and it was influenced by Europe's top choreographers; she also studied in NY, L.A. and finally London where she joined one of the most influential street dance companies in the UK, Boy Blue Entertainment (Olivier Award winner).
She stepped into the UK samba scene where she trained and gained a lot of experience working with top companies in London and abroad, she also trained with Brazil's finest teachers and experienced training BAILE FUNK in Rio's favela and developed her own fusion of samba and house styles.
Her work experiences vary from music videos, live shows, TV, movies, theatre productions, fashion shows and corporate events as a dancer, assistant choreographer and choreographer.
Some Credits: MOBO AWARDS Fuse ODG, Tinie Tempah, Deborah Cox, BBC Radio 1 Teen Awards, MTV's Plain Jane, Channel 4 Comedy Gala Show, Jaxx Jones "SNACKS" Tour, MTV "Plain Jane", Films: "Legends" "Doctor Strange 2", "BAFTA's 2023".
She started to teach early in her career and her vast teaching experience reflects the vibe of her classes: fun, knowledge and quality. She has been working closely with communities bringing carnival to the streets as she believes this is where her heart and purpose with dance lies – to help, empower and educate people while giving them a great time.
She teaches students of all ages, in schools and private workshops. She choreographed UDM youth samba projects, performs with them and teaches samba to their passistas in preparation for their performances.
Performed at 2019 Rio's Carnival with Imperio da Tijuca and 2022 Notting Hill Carnival with Baque de Axe'.
Nicolas Martins
Nicolas Martins is a Brazilian dance teacher certified in Street Dance by JP move company of Dance and certified in samba by Passos da Zona Oeste, the project that works with Mocidade Independente de Padre Miguel and Unidos de Padre Miguel passistas.
When living in Rio, Nicolas was a passista of Unidos de Padre Miguel. He moved to London in 2021 where he teaches both Samba de malandro and female style Samba.
In Nicolas' words: "I think each body is unique, so for me one of the most important duty as a samba teacher is to provide for my students different ways to understand the movements and improve their body knowledge and consequently improving their samba dance journey."
Samara Reis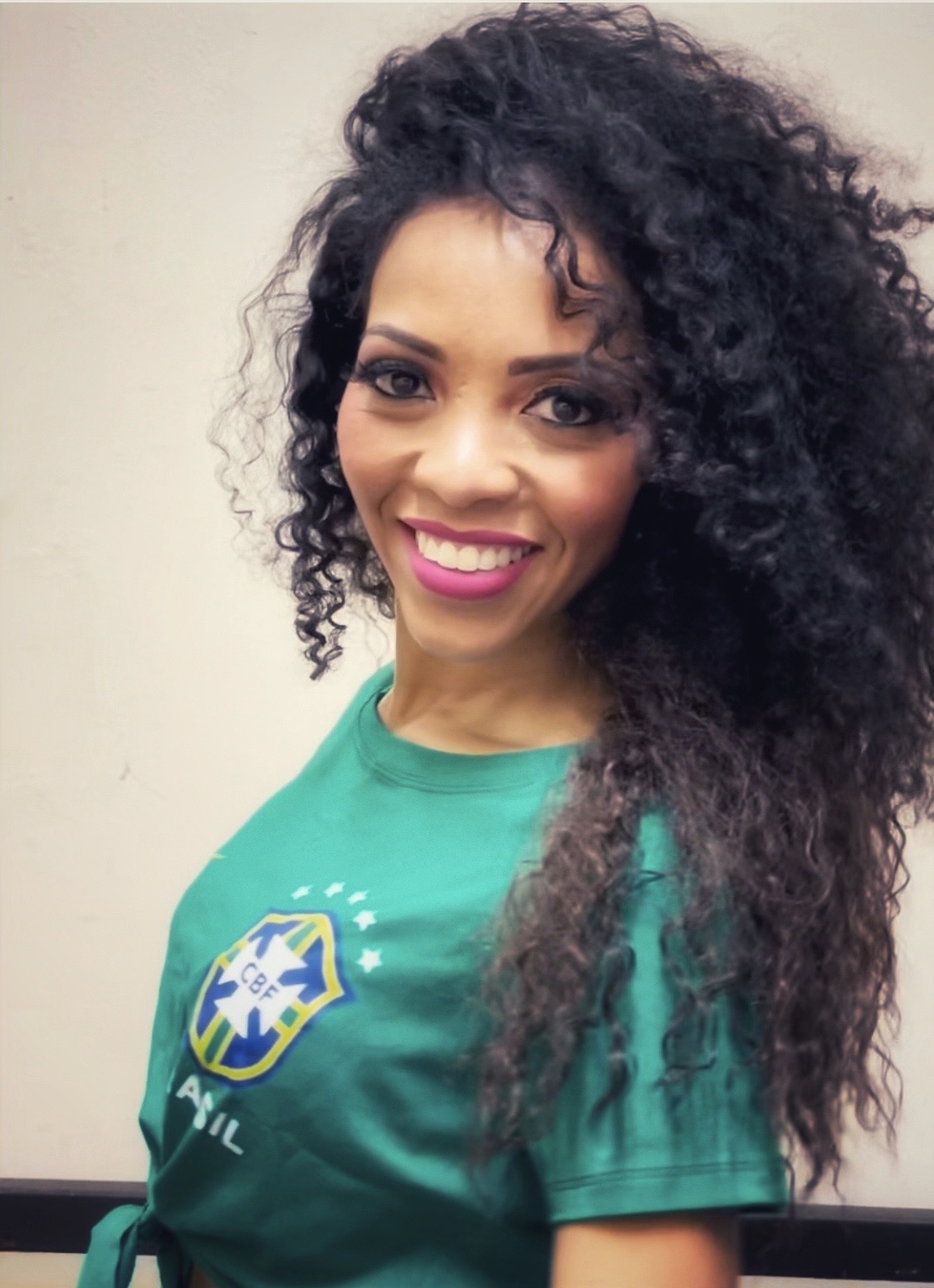 A former LSS Rainha da Bateria, Samara is a dancer from São Paulo with a background in Brazilian ballroom dance such as Samba de Gafieira, Forro, Lambazouk and other latin dance styles such as Salsa and Merengue.
She has a classical approach to samba with a focus on elegance and good posture. She has paraded in the São Paulo's Carnival as a passista with Vai-Vai Samba School and has greatly performed in Europe and around the UK with many companies.
Some of the highlights in her career are performing with Will Smith on the Ant and Dec Show, winning the 2008 Rainha da Bateria competition held at Coburg International Samba Festival, NME Awards 2009, Brit Awards 2011, Edinburgh Fringe Festival 2013, 2014 and 2015 as well as appearances in various advertisements and television shows.
Samara has paraded with LSS numerous times at Notting Hill Carnival. In 2007, she choreographed the Comissão de Frente of LSS. In 2015, she was the winner of the Best Brazilian Dance Teacher Award at the Lukas Awards. Other works include teaching Zumba and water aerobics.
Being passionate about dance, well-being and health, Samara was awarded a bachelor of science with honours Nutrition in 2020.
Other Guest Dance Teachers at London School of Samba
At the London School of Samba we are very lucky to have some amazing guest dance teachers pop in to teach samba dance in London.  Here is short list of some amazing dance teachers in London.
Paula de Hollanda
Monika Molnar
Kamilah Turner
Contact the London School of Samba
If you'd like to come and teach for the London School of Samba please email CV with videos of you teaching and performing to [email protected]
Please note we schedule workshops at least 3 months ahead.