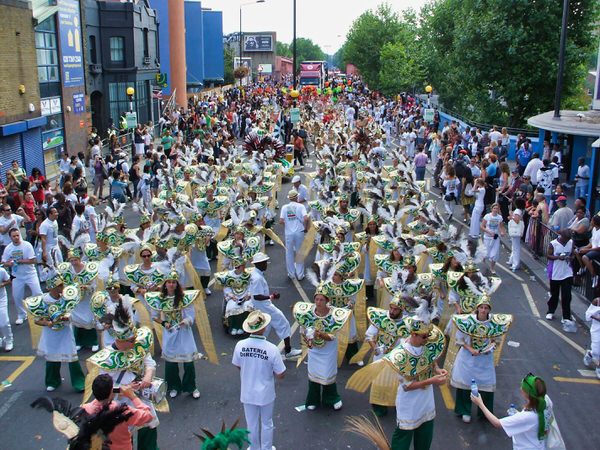 Book London School of Samba For Your Show or Party
The London School of Samba offers a variety of packages for your festival, Gala event, party or TV Show. We have a long track record of performances and excel at delivering a spectacular and colourful event. We have performed in over 1000 live events in countries around the globe. Memorable shows and venues include:
Hong Kong Chinese New Year Celebrations
Coburg Festival – Germany
Glastonbury Festival (with the Bombay Bicycle Club)
Strictly Come Dancing TV Show
Edinburgh Festival
The Lord Mayor's Show
Royal Albert Hall
Wembley Stadium
LSS provides an authentic taste of Brazil; exuberant and colourful. We are flexible with our performance routine from being able to fulfil a gig in front of thousands of people to more intimate corporate affairs.
For more information on how we could help you with your event please contact us on – [email protected]
It can help to speed up your enquiry and quote process if you complete the web form: Click here to complete>>
The London School of Samba Showreel
The London School of Samba was established in 1984. With over 30 years of award-winning samba, we have performed to thousands of audiences, venues and events ranging from the London New Years Day Parade 2019, the John Peel Stage at Glastonbury Festival, Closing Ceremony of the London Olympics, the opening of the London Millennium Dome, Chinese New Year Parade in Hong Kong as well as several international stages, to many television appearances over the years. Let us bring the carnival flavour to your next event.
Book the big London School of Samba Show Band Package
The London School of Samba Grande Package is suited to large public events such as festivals and club nights, as well as private and corporate events:
Up to 50 entertainers!
Drumming group
Samba dancers
Colourful costumes
Fast Rio-style Samba
Funky Afro-Samba
Book the London School of Samba Show Band Package
The London School of Samba Pequeno package is suited to smaller events or venues such as bars, community and non-profit organisation events:
Up to 15 entertainers
Drumming group
Samba dancers (optional)
Colourful costumes
Vibrant atmosphere
London School Of Samba – International Samba Festival Coburg Germany
Customer Reviews Booking London School of Samba
"I know I've said this in person – but I just wanted to say a MASSIVE MASSIVE thank you again to you and the London School of Samba after your appearance at the Twickenham Carnival this weekend. You all brought a spectacular sense of music, colour and energy to the day that simply made the carnival feel like a carnival. Your dancers and drummers looked magnificent in the parade and you brilliant engaged with children and adults alike sweeping them up with your performance. Fantastsic."

Twickenham Carnival,
"UNBELIEVABLE is the only word to describe how incredible the drummers and dancers were from the London School of Samba.  Please pass on our thanks to the performers for an absolutely sensational show. Fantastic memories and the crowd went mad for them! I can't wait to have another big celebration and have them all over again. Many, many thanks"

Birthday Gig,
"I just wanted to say a huge thank you to you and all the dancers and musicians from the London School of Samba for your part in the Big Dance Opening Night in Hounslow.  You were fantastic – and complete stars carrying on, and smiling, through the pouring rain!  We were so glad you could continue as the crowd obviously really loved your performance."

Big Dance – West London,
Thank you and everyone at the London School of Samba for all your great work and commitment to the collaboration. We can all be really proud of Homage to Rio. It's been a great pleasure to meet you and work with LSS. I am really proud and happy of all team Rio achieved and our great show.

Homage to Rio
We booked the London School of Samba for a work's party and they were brilliant!

The show was fantastic with brilliant dancers and drummers and it made us feel we were back in Brazil again!
Really friendly bunch of people, and would highly recommend booking these guys if you want a high energy party with a BANG!
Everything went brilliantly on Sunday. The drummers were great, especially the lead drummer who commanded and connected with the audience really well. The girls who I am sure are always a hit were like mini celebs. I had to remove them from the doorway as droves of people wanted to have their pictures taken with them. It was really great.

Deonne Simpson-Hines, Brent Council (Arts)
Book The London School of Samba
For further details and bookings simply contact us – Email: [email protected]
It can help to speed up your enquiry and quote process if you complete the webform: Click here to complete>>