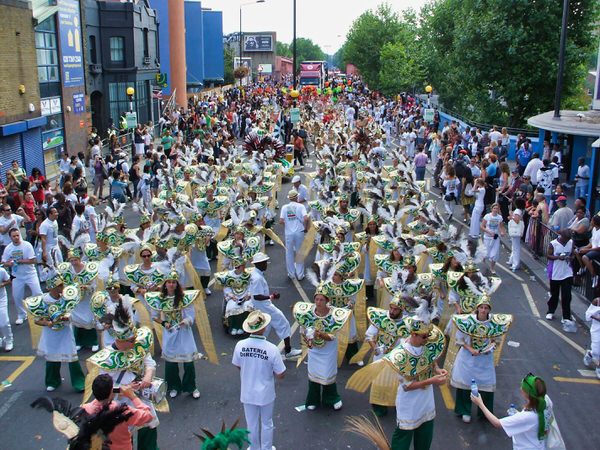 Hello and welcome to the London School of Samba!  Our fantastic Bateria (samba drumming) teachers are brilliant at getting you to play samba in London within minutes of joining any of our classes!  You don't need any musical experience, and it is a fun way to learn a new skill, bang on some drums and make new friends!  Below are some of the background information on our amazing bateria teachers and we are looking forwards to joining in and playing some samba with us!
Link to join our samba drumming classes in London
One last thing before you start to read our bateria teachers bios………  Here is the link to book your place on the next available samba drumming class with the London School of Samba.
Mestre Fred
Mestre Fred is the Musical Director for the London School of Samba. He has been involved with many of the samba (and samba fusion) groups in London, including Casa da Cachaca, B-Loco, Bloco Vida, Queijo Processado, Barking Bateria, Rhythms of Resistance, Verde Vai, Rhythms of the City, Chapa Quente, Sambattalion, Sambal and toured with famous Rio bloco 'Monobloco' on their UK tour in 2007.
He has performed with our Madrinha (Godmother) samba school from Rio de Janeiro, Mocidade Independente de Padre Miguel at carnaval in 2010, their sister school Unidos de Padre Miguel in 2012 and Sereno de Campo Grande in 2008 as well as delivering samba drumming workshops across the globe.
Mestre Mags
Mags is one of the bateria directors. He was Musical Director between 2000 and 2007, leading the bateria at events in Algeria, France, Germany, Spain, Sweden and a record 8 times at Notting Hill Carnival.
A performer in bands since 1980, he found LSS via Batucada Mandela in 1990. He has been an active member of the gigging bateria since 1991, and has performed over 20 times at Notting Hill Carnival. He began teaching at LSS workshops in 1995.
As well as being a member of the various committees that run LSS for many years, he was also responsible for delivering the LSS Outreach drum workshops in schools between 2000-2010 and was Outreach Director 2007-2010. He has taught samba in both primary and secondary schools in 22 London boroughs and has helped set up numerous samba groups in schools across London.
Currently, he works as a music teacher with various music services in London, and is Musical Director of Bloco Maluco, a group the LSS became Madrinha (Godmother) to in 2014. He has played with a samba school at the carnival in Rio, and various blocos in Salvador.
Karen Brownlie
Karen is a clarinet and sax graduate of the Royal Welsh College of Music and Drama and began her samba journey back in 1996 with the Edinburgh Samba School. She joined LSS shortly after moving to London in 2004 and since then has performed, directed, and taught with many Brazilian-themed bands such as Rhythms of the City, Verde Vai, b-loco, Bloco X, Brighton School of Samba, Maracatu Estrela do Norte and Maracatudo Mafua amongst others.
She has appeared on stages ranging from Glastonbury Festival and the Olympic Closing Ceremony, all the way to the local primary school fair, and occasionally makes attempts at performing classical music when her samba diary allows.
Christopher Mullins-Silverstein
Chris is a former Musical Director. He has been a member of the London School of Samba since 2011. He has previously been a member of both percussion and symphonic groups in the United States. Chris is now part of the team of musicians who play and sing the Samba enredo (Brazilian carnival songs) for the school.
The enredo is the music that accompanies the samba school whilst it parades during carnival. Chris is now the official "puxador" or samba singer for the London School of Samba.  Here is some background information about what a Puxador role is in a samba school or Bloco.
The Puxador is a samba singer who sings the samba theme songs called samba enredos for a samba school. The word "puxar" in Portuguese means to "pull" and it references that the singer sets the tempo and the energy of the song and the group at practice or at a parade.
Greg Cowan – Songwriting Workshops
'Greguinho Caroço' aka Greg has performed with the London School of Samba since 2005. His musical background in Perth Australia is with Sambanistas, and as a teenage rock guitarist with The Bullies, c.1980. He joined Rhythms of Resistance (London) after arriving in the UK in 2003, before hearing and seeing the London School of Samba perform at International Coburg Samba Festival in 2004.
He has been studying cavaquinho and Samba de Raiz since 2011 with Paul Rumbol and Lili Nascimento, and choro since 2014, he has entered LSS Songwriting competitions since 2014, and he has organised annual London School of Samba songwriting workshop courses since 2015.
Great is with a number of samba groups in London such as Ohmagodgy and Alfavaca, he is currently also performing with Casa da Cachaça (London). He has been a bateria guest of Papagaio Samba School (Helsinki) and has toured extensively with LSS in the UK, to Coburg, Sibiu (Romania), and to Hong Kong SAR to play for the Chinese New Year Parade.
Contact the London School of Samba
You can contact the London School of Samba by emailing us at Bateria (Band) and music-related: [email protected]