The London School of Samba is making its 9th appearance at the Waterloo Carnival in London on Friday September 24th.  Held annually to celebrate the local community, the Carnival also included a giant fish, chickens, ribbon twirling dancers and majestic stilt performers from Mandinga Arts and the Children's Procession from local school, Oasis Academy Johanna. It is a fun gig and many people from the Samba School love performing at the Waterloo Carnival.
It's all about community and getting kids involved
The great thing about the Waterloo Carnival is getting the kids involved.  This is what the London Schoo of Samba is all about.  Doing outreach programs and having fun with people in the local community in Waterloo. Emerging from the school playground, London School of Samba's 'green team' of drummers and dancers, led by Mestre Mags and fronted by our magnificent 'Queen of Bateria' Jordan Leigh, led the entire parade up and down  Lower Marsh Street. The crowds gathered outside restaurants, cafes and shops under glorious blue skies to cheer, dance and get photos with the performers. 
Samba Dance and Drumming Classes in London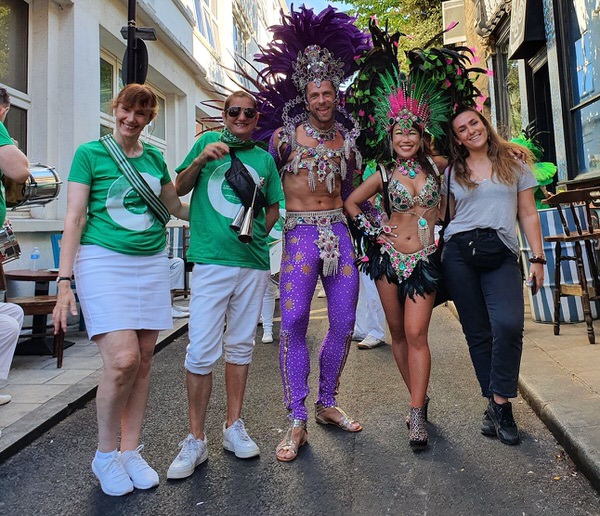 London School of Samba holds its regular Sunday evening classes at Waterloo Action Centre, just to the South of Waterloo station, and a few steps away from the 'Cubana' restaurant and live latin music venue. 2021 marked the London School of Samba's 9th year participating in the Waterloo Carnival, and both our bateria and dance teams absolutely love getting involved. 
Review of the Waterloo Carnival gig by London School of Samba
Here is review of the Waterloo Carnival gig by the London School of Samba with Bloco Maluco.  Kathy review of the gig, "Thanks to all members and Mestre Mags for a super fun afternoon at the Waterloo carnival! And also to the guest sambistas from Bloco Maluco. Great community and samba spirit, good vibes, faultless weather. We finished up at the windmill, with Irish ballads and folk songs. In my view, it doesn't get any better'n that. Love yours"
Review by Raquel of the Waterloo 2021 Carnival
"Today was great . With such a fantastic carnival full of oasis family and more. Full of music and such Great energy . My son loved it ! It's a great event not only for family but for everyone .Thank you to all who have taken time and energy to run the carnival today . Can't wait for next years !!"
Review of London School of Samba at Waterloo Carnival

We received this great email review for a review of the London School of Samba at this year's Waterloo Carnival.  "Just a quick note to say a huge THANK YOU to all who were involved in the carnival this year, and have contributed. And in particular, those who supported on the day in a variety of ways.We have had brilliant feedback on the event, with many really enjoying the street event following the procession, and the atmosphere which was very buzzing. We had a huge audience across the 3 hours, and a wide mixture of activities, with families and local adults engaged. Felicity Maries (Oasis Waterloo/Waterloo Carnival) 
What to expect – a fun day out for kids and the community
The Waterloo Carnival will set up a number of come and try art activities and these included drumming, circus, art, dancing and football skills to name a few of the fun things that you can do!  Come and check out the fun things to do and these include make-up artists, stilt walkers, Mandinga performers, dancers roaming, aerial artists all performing, Cubana band playing, and the Yurupi Dance group.
The great thing about this local community lead carnival is that loads of local families, people who work in the community and visitors will be invited to explore the activities and enjoy the roving entertainment as the London School of Samba will be parading with it's fabulous dancers to create that carnival experience in Waterloo!  There will be plenty of local food and refreshments on offer to tempt us all!  In addition there will be will some lovely free samples and tasters to get you in the mood for carnival! You can follow and find out more about the waterloo carnival on their Instagram page.
History of the Carnival
The Waterloo Carnival has a proud history and Waterloo has always been a site of theatrics and performance. The National Theatre and Shakespeare's Dome all found a home on the southern shores of the River Thames. The first Waterloo Carnival was hosted in 2002, and has grown over the years to become an annual fixture in the Waterloo community. True to the history of the area, the Carnival provides a place for all people to be included, for music, dance, art and theatre to be shared. Today, the Waterloo Carnival continues to be a colourful celebration of the diversity that makes Waterloo such a special place.  For more information, check out the History page on the Waterloo Carnival website.
Waterloo Carnival Celebration of our Community
The Waterloo Carnival is a celebration of our local community: our unity and our diversity, history and the future. For these reasons, the London School of Samba love to perform at this local festival, and be a part of the community spirit.  The first Waterloo Carnival was in 2002, and it has always drawn the support of local people and businesses. Waterloo has a proud history of the arts; it is the birthplace of the circus and a stroll down the river's edge will be serenaded by musicians and performers of every variety.
Waterloo Carnival Partnership with London School of Samba
The Waterloo Carnival is a grassroots event, supported and sustained by local groups and businesses who offer their space, resources, time and energy to making this wonderful annual event happen. They rely on local sponsorship and partnerships to sustain the carnival. The London School of Samba is a registered charity and has been in partnership with Waterloo Carnival for the last nine years.  One of our goals of the Samba School is to bring the joy of samba dance and samba drumming to as many members of various communities in London.
As this carnival is a grassroots event, it is important for the London School of Samba to be proud of supporting the wonderful Waterloo Carnival.  We look forwards to meeting everyone and parading with your all.  We are looking forwards to this carnival and the ones in the coming years.  See you for all the fun and fantastic performers at this year's Carnival.
Nine years of supporting the Carnival and local community
The London School of Samba have proudly been performing at the Waterloo Carnival for the last nine years.  Below are some photos from the various years we performed at this fantastic local community led grass roots carnival.  You can read more about the carnival on their official carnival facebook page.
2012 Waterloo Carnival – Photo of the London School of Samba
2013 Carnival – Children parading with London School of Samba at Waterloo
2014 Carnival Samba with Dancers from LSS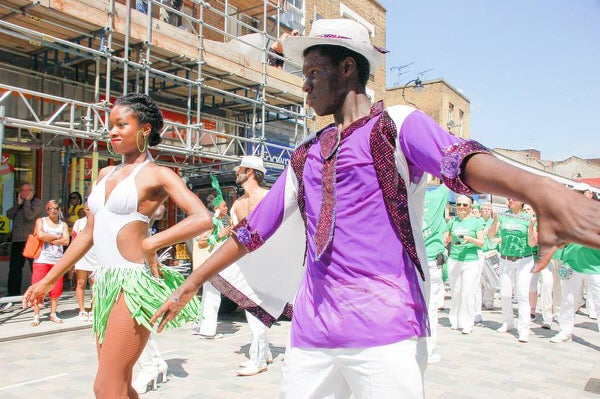 2015 Carnival with London School of Samba Dancers Maura Samba and Kanika Findley-Chin
2016 Carnival – Local children from community parading with London School of Samba
2017 Carnival local community police posing with the dancers from LSS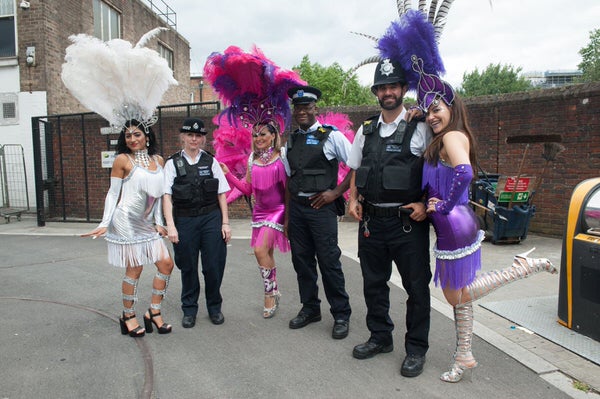 2018 Carnival – photo of the drummers after the carnival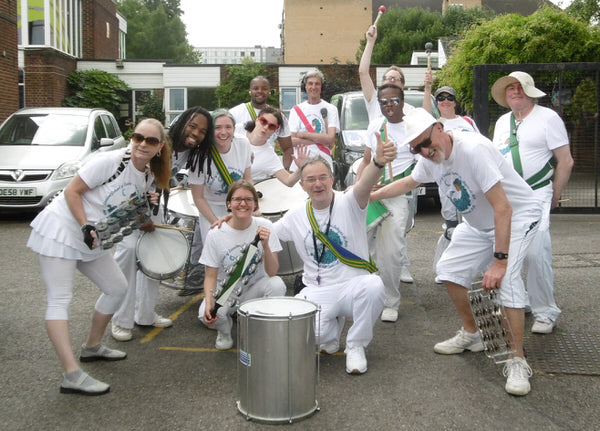 2019 Waterloo Carnival – fun times with London School of Samba!
2021 Waterloo Carnival – 16th to 24th of September
Over the last nine years it has been a lot of fun and super important to support local grass roots community festivals here in London.  Mestre Mags who led the Bateria will be writing some stories and sharing some of his fondest memories of the last nine carnivals.   As soon as we get these stories about the carnival will appear here…..
A big thank you to the Waterloo Carnival committee
All of our members at the London School of Samba would like to say a huge thank you to the Carnival's organisers and everybody who took part in making this wonderful celebration of culture, community and creativity such a consistent success. We also thank the audience who turned up to support the local businesses and communities, and who gave us the energy and samba spirit that is so vital to carnival culture. 
Reaching out to communities across London and inspiring people both young and old through the joy of samba dance and drumming is central to the ethos of London School of Samba, so we relish every community project, gig and parade as an opportunity to spread the message of unity, resistance and community that was and continues to be at the heart and foundation of the art that is samba. This passion and dedication shines through in all our performers, be they bateria percussionists or dancers, and is what invites people to smile, laugh and let loose. 
Thank you to Stella and the team
Another big thank you to Stella Patsikas, the newest member of the comms team here at London School of Samba. Thanks to Stella and the rest of the team for writing the report and supplying the photos, very much appreciated 🙂
London School of Samba is Godmother to Bloco Maluco
The London School of Samba is proudly the Madrinha (or Godmother Samba School) to Bloco Maluco.  We are hear to support and encourage member of the community of Bloco Maluco to perform their best at Waterloo Carnival.   This spirit is what samba is all about sharing the love and the passion for samba with members of the local community and beyond!
Contact the London School of Samba
If you can't get enough of that samba spirit, look no further! Now is a great time to contact the London School of Samba for event bookings, dance and drumming classes and community outreach programs.  We are based in Waterloo, so it's great to get local people from the Waterloo Carnival involved with our fun samba dance and drum classes.
We love new members (especially beginners) to join the London School of Samba!  All you need to do to contact us below and our friendly team will be in touch.